Product Description
HP – ENVY x360 2-in-1Touch-Screen Laptop
Big-screen 2-in-1 laptops, the target of the shopper who wants it all, often come with trade-offs. Consider the HP Envy x360, a convertible notebook with a slick look, a huge, 15-inch display and sweet sound. Unfortunately, its screen is quite blah, its hinges are weak and its battery life is short, even by the admittedly low standard for large notebooks. Still, this notebook offers a decent number of perks at a price that's more affordable than most of its competitors, making it worthy of checking out.
The Envy x360 is made in silver (Intel) and black (AMD) designs, and features the sleek design aesthetic that HP keeps exclusive to its mid- to high-end laptops. The black AMD model is cooler and more distinct, while the silver design will get lost in the field of other PC laptops.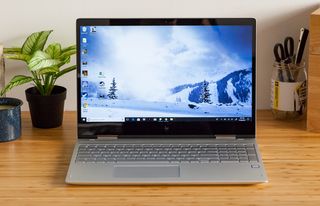 While it's easy to rotate the Envy x360's screen from laptop mode to the positions for the stand, display and tablet modes, I found that the 360-degree hinge is too loose. When I tapped the screen with my finger to use its touch screen, it shuddered and shook at each press.